Don't forget that when you buy your new custom Florida home in Tamaya — ICI Homes' master-planned community on Jacksonville's southeast side —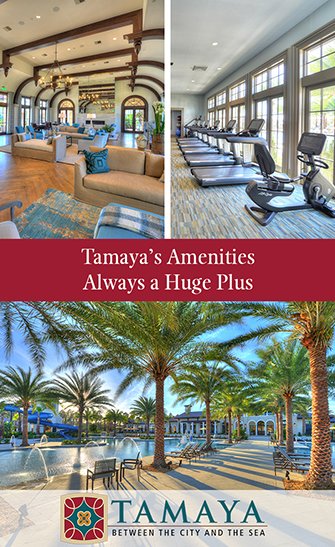 you're also acquiring one of the best resident-amenity experiences in northeast Florida.
That's not hyperbole!
It might be easy — unintentionally, of course — to overlook such an ace aspect of this community "between the city and sea." The latter is Tamaya's tagline, and so true.
Centered to the northeast of the Kernan and Beach Boulevard intersection, Tamaya is a mere six miles west of Atlantic beaches, five minutes east of the Interstate 295 beltway, and 10 minutes (if that) from St. Johns Town Center, Jacksonville's premier retail, dining and services destination.
With all of those positive features, plus the excitement of tracking down one's dream home and community, we understand resident amenities might not be the top item on your wish list. But we at ICI Homes are glad to remind you what a big perk they are at Tamaya.
Here's why Tamaya's amenities are always a huge plus.
They're front and center
Tamaya's 10,000-square-foot Residents Club anchors the Amenity Center complex. It's all impossible to miss, not only because of its size, but its beauty.
The Resident's Club's exterior appearance and landscaping echoes Tamaya's overall architectural vibe, which features Mediterranean, Spanish and Tuscan elevations (or exterior appearances). These architectural styles are right "at home" in Florida's subtropical climate.
Conveniently arrayed around the Residents Club are the resort-style swimming pools with their two-level slide, sports courts, a playground and enormous event lawn.
Although Tamaya is a large community — 780 acres — Tamaya's amenities are located in its midst, easily accessible for all current and future residents.
They have something for everyone
Whether you've begun exploring Tamaya, or are honing in your favorite floor plan and lot, we're betting you know about the Amenity Center, having toured it virtually or in person.
But, if you haven't, we're happy to tell you the Residents Club is loaded with bright, airy meeting and social spaces, and a 5,000-square-foot fitness center. The two pools can become your family's summer headquarters.
Get more recreation in at the tennis and basketball courts.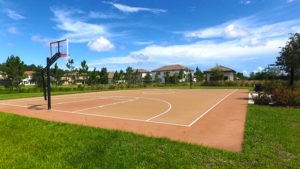 Kids and grandkids can work off extra energy at the playground, and the event lawn is perfect for Frisbee-tossing.
They can be enjoyed no matter what
Tamaya's inventive Amenity Center staff always dreams up fun and games for residents, and never more so during our recent global health crisis.
Social-distancing mandates have required some adjustments, but here's where the size, breadth and outdoor beauty of Tamaya's amenities all make such a difference. That expansive event lawn makes it much easier to space out safely and still enjoy many group activities.
And, during northeast Florida's mild winter months, Tamaya residents' Polar Plunge at the Amenity Center is an annual fixture on the calendar.
Ready for your Tamaya lifestyle? Talk to ICI Homes here.