Winter. Yes, we still have it in balmy Florida, albeit not with the ferocity of more northern climates.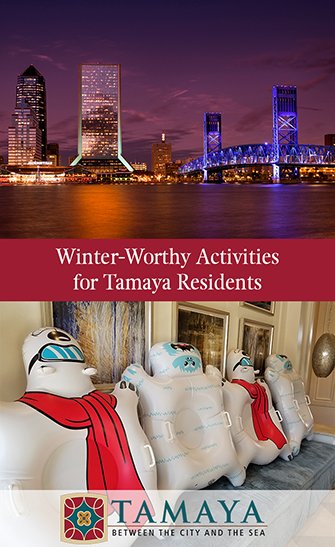 One reason you live at Tamaya or are considering moving here may be to outwit gray, freezing weather elsewhere. This master-planned community on Jacksonville's eastern flank can easily convince you. After all, we're only minutes west of Atlantic Ocean beaches, and our few bouts of chilly seasonal weather tend to last for only hours, or perhaps days.
You definitely can "winter" that with light jackets, or by firing up the outdoor fireplace on your lanai and roasting marshmallows. And, we at ICI Homes propose that the seasonal break is a nice change of pace. It's often more temperate and refreshing than cool, plus provides a reason to keep favorite sweaters or pullovers.
But, winter remains an active, invigorating season in northeast Florida. It's not the Sunshine State for nothing. If you're a new Tamaya resident, you may be surprised by all the fun you can have in December, January and February.
Here's our guide to winter-worthy activities for Tamaya residents.
Polar Plunge
An annual display of bravery!
Tamaya's annual Polar Plunge usually takes place in early January, at our amazing swimming pool complex at our expansive Residents Club.
The brave among us swoosh down the two-level pool slide, or jump right in. It's all good fun and one of Tamaya's first community events each year. Warm up afterwards with hot chocolate, receive a certificate documenting your nerve, and enjoying socializing with neighbors.
Have you done it? Will you? Even if you can't bring yourself to shiver your timbers THAT much, consider attending the next Polar Plunge and cheering those brave enough to ride that slide!
Outdoor recreation
If you've lived in Tamaya during cooler months, you probably know that very few activities, and the folks who enjoy them, hit pause in winter. The beach and Jacksonville's massive natural resources and beauty provide proof. After all, Jacksonville features the nation's largest urban park system.
Head the few miles and minutes east to Jacksonville Beach. About the only outdoor-recreational activities that won't be in full swing are swimming and surfing. Atlantic waters can be cool in winter, and any surfers probably will be wearing wet suits.
But you'll definitely see sunbathers, walkers, runners, cyclists and impromptu games of beach volleyball, among other things. In fact, some walkers might be skipping through the surf.
Museums and attractions
These are the activities many people save for rainy days during warmer months. But winter is also a perfect time to enjoy public gardens, attend festivals and concerts, and take your time browsing Jacksonville's considerable arts and cultural venues.
How about the Jacksonville Zoo? A Jacksonville Icemen hockey game? It's all up to you.
Ready for your Tamaya lifestyle? Talk to ICI Homes here.