Sweet treats are coming to the Tamaya Market shopping area. That's right! Tamaya residents soon can stock up on healthy groceries at Sprouts Farmers Market, then cross the parking lot for a sugary splurge at Shipley Do-Nuts in Tamaya Market.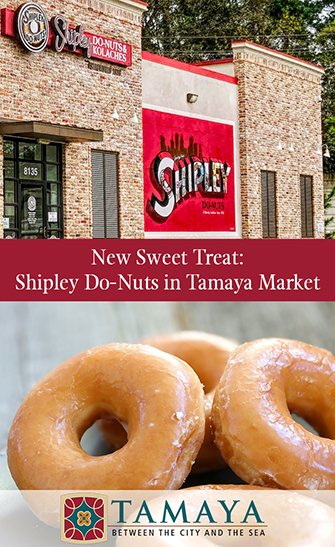 As of this writing, franchisees for the Tamaya location of the popular Houston, Texas-based doughnut chain are targeting an October 2020 opening. The approximate 1,800-square-foot store is being built in an outparcel space in Tamaya Market and will offer a drive-through window.
The better to collect those hot or iced coffees, and delectable glazed or cake doughnuts.
Shipley Do-Nuts in Tamaya Market is one of the newest additions. Tamaya Market is undoubtedly is a favorite stop of Tamaya residents, and not solely due to grocery and food retailers. The shopping center is super-convenient to this master-planned community on Jacksonville's southeast side — like its neighborhood namesake, Tamaya Market sits at the corner of Kernan and Beach Boulevards, just west of Tamaya's main entrance — and boasts a growing list of tenants.
Here's a preview of one of Tamaya Market's tastier new additions.
Sugar fixes and savory treats
Shipley Do-Nuts is known for its fresh, yeasty doughnuts, of course, but also for its coffee (can't have one without the other) and its kolaches.
"What is that?" you might say of the latter.
A kolache is a filled pastry similar to a doughnut. It can hold fruity, creamy fillings, or sandwich-style fixings such as a sausage. Think pigs-in-a-blanket. Kolaches actually are Czechoslovakian pastries, and trace their Texas roots to 19th-century Czech immigrants.
Lawrence Shipley Sr., and wife Lillie founded Shipley Do-Nuts in the late 1940s, featuring a family recipe for hot doughnuts. Aside from kolaches and the traditional hot glazed yeast doughnut, you'll find cinnamon rolls, bear claw pastries and flavored doughnuts of every color and taste.
How about a chocolate-iced, chocolate-cake doughnut or a cherry-iced, hot glazed with multi-colored sprinkles?
Sounds good to us.
Shipley Do-Nuts in Tamaya Market and more updates
Certainly Sprouts, at 30,000 square feet, is the centerpiece. It opened during the final week of April 2020 and is the second such location in Jacksonville. The first opened June 2019 at The Markets at Town Center on Town Center Parkway..
Also on the horizon: a nearly 3000-square-foot branch of First Florida Credit Union at Tamaya Market (specifically, 3280 Tamaya Boulevard). It received its building permit from the city of Jacksonville in March 2020. Hiring was being done in July 2020.
A nail salon (Regal Nail Salon) and a dentist office (Heartland Dental) also are scheduled for Tamaya Market.
Heartland Dental and Shipley Do-Nuts in Tamaya Market will be two tenants in a three-space outparcel. Heartland Dental received a building permit from the city in early July. Its space totals 3,384 square feet. Shipley Do-Nuts was permitted in late July.
Ready for your Tamaya lifestyle? Talk to us here.