If you're a current Tamaya resident, you've likely noticed the gleaming new Sprouts Farmers Market operating in the Tamaya Market shopping center along Beach Boulevard.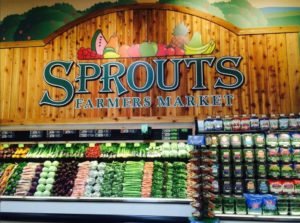 If you're considering a new custom home in the Jacksonville area, the specialty grocer's newest Jacksonville location is one more reason why Tamaya should be on your short list.
The master-planned community developed by ICI Homes just southeast of Jacksonville couldn't be more convenient to anywhere you'd like to be in "JAX." It's located at the intersection of Kernan and Beach Boulevards, and its tagline is "between the city and the sea."
Tamaya certainly is that, sited only six miles west of Atlantic beaches and five minutes from the Interstate 295 beltway and some of Jacksonville's best shopping experiences.
But for true convenience — aka that frequent grocery run — Sprouts at Tamaya Market can't be beat. It anchors the new Tamaya Market shopping center that's just west of the community's main entrance on Beach Boulevard.
If you haven't had a chance to explore it, or are curious about what it is, here are helpful details about the new Sprouts at Tamaya Market.
When and how it opened
The newest Sprouts in Jacksonville opened during the final week of April 2020. There was no grand-opening event because of the recent global health crisis. So, this Sprouts opened with safety protocols in place (employees wearing masks, social-distancing reminders, one-way aisles and help-yourself bulk items pre-bagged instead of being self-dispensed by shoppers).
But the new store undoubtedly is welcomed by many surrounding Tamaya residents. Headquartered in Arizona, the Sprouts chain focuses on whole, healthy foods and produce, with an emphasis on organic inventory and affordability.
Where Sprouts fits in Tamaya Market
The Sprouts in Tamaya Market is only the second such store in the Jacksonville area. The first Sprouts here opened June 2019 at The Markets at Town Center on Town Center Parkway. It encompasses more than 30,000 square feet.
Sprouts in Tamaya Market is only a hair smaller, and large enough to anchor Tamaya Market. The entire shopping center will offer 75,000 square feet of retail space.
Other businesses at Tamaya Market
Sprouts soon will have retail company. Look for a nearly 3000-square-foot branch of First Florida Credit Union at Tamaya Market. The city of Jacksonville issued a building permit for the site at 3280 Tamaya Boulevard in March 2020.
A nail salon (Regal Nail Salon) and a dentist office (Heartland Dental) are also coming to Tamaya Market.
For those with a sweet tooth, expect a franchise location of the popular Houston, Texas-based Shipley Do-Nuts. It will total approximately 1,800 square feet in an outparcel space in Tamaya Market and offer a drive-through window. Opening is targeted for September 2020.
Ready for your new Tamaya lifestyle? Talk to us here.