With two oceans, two intracoastal waterways, several major maritime ports and many rivers, the opportunities to swim, surf, dive, paddle and fish are never far away for Florida residents.
They're especially close for resident of Tamaya, ICI Homes' master-planned southeast of metro Jacksonville.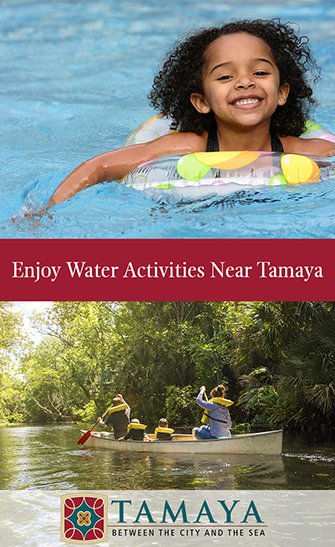 Located at the corner of Kernan and Beach Boulevards, near the convenient Interstate 295 beltway and St. Johns Town Center, the area's top shopping, dining and entertainment district, Tamaya is six miles west of Jacksonville Beach and minutes from other forms of watery fun. In fact, its tagline is, "Between the City and Sea."
This time, however, we're not talking about the amazing resort-style swimming pool at Tamaya's Residents Club, which anchors all the splendid amenity facilities (always a great option).
Instead, we at ICI Homes want to share a quick primer in case you're new to the community and Jacksonville.
Here's how to seek the water near Tamaya.
Go to the beach
You won't find a more convenient, amenity-filled community closer to the sand. Just drive or cycle east on Beach Boulevard, which ends at A1A, Florida's Atlantic Coast highway.
You'll end up in Jacksonville Beach, which is the middle of three smaller coastal municipalities in Jacksonville. Public beaches with parking, facilities and seasonal lifeguards are right in front of you. Or, cruise a few miles south on A1A for Oceanfront Park.
Pack snacks, lunch, plenty of drinks, and, of course, sunscreen. You also can walk to nearby eateries for takeout goodies.
Go paddling
Own a personal watercraft like a canoe, paddleboard or kayak? Or, ready to get your feet wet with paddle sports? No problem. You'll find quick and easy spots to put in on the Atlantic Intracoastal Waterway, or along creeks and bayous in public parks near Tamaya.
Some of these are located in Jacksonville Beach. Rotary Park offers a fishing pier, playground for the kids and kids at heart, and is near the Safe Harbor Seafood Restaurant in case you need to refuel. Cradle Creek Preserve, a new 45-mile park near the Intracoastal Waterway, can be accessed by paddling into Cradle Creek off the Intracoastal (look for Marker 37).
Bonus points: You also can go hiking at Cradle Creek Preserve, on trails and elevated boardwalks that parallel the Intracoastal Waterway.
Go fishing
One close option is Jacksonville Beach's Huguenot Park, where a lake is stocked for that exact purpose. Surf-casting is another favorite pastime for many local beachgoers and fishing hobbyists. Just grab your tackle, sunscreen and bait, and spend a glorious morning or evening trolling the surf.
The historic Jacksonville Beach Pier, which stretches out into the Atlantic and is a beloved icon, is currently closed for repairs, but is a longtime fishing and observational staple of Jacksonville Beach life. Keep tabs on the construction project at the Jacksonville Beach website.
And, don't forget the aforementioned Rotary Park, with its fishing pier.
Ready for your Tamaya lifestyle? Talk to us here.