What a Grand Entrance it is!
Every day that goes by the entrance gets better and better. The massive wall structures truly create a visual that is the standard for Tamaya. Traveling further into the community, you're sure to notice that the paved roads have been finished in the 50′ section of Bella Nika. It's all coming together, isn't it?
Have you heard? Model Row is moving!
We can't believe it either! The brand new model row will be located across from the amenity center and showcase six homes: Egret V, Juliette, Brooke, Vienna, Victoria and our most popular plan, the Serena. Have you seen the new Serena? It's spectacular.
Want to pick your neighbors? This is your chance!
We are having a Model Center Blowout on the Phase I homes. Tell your friends! Tell your family! They cannot lose in this deal we're making. These are builder models (with lots of bells and whistles) and we have them set at the best prices AND we will lease it back until April 2017. We're not moving until the new model center is ready, so we pay you until we do. This deal cannot get any better than this! This is the very best time to help us fill in the neighborhood.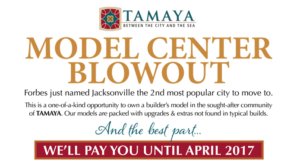 Don't worry, be happy!
What's better than lounging by the pool with a mai tai? How about letting your kids have a blast on the resort-style slide. This amenity is sure to be a slam dunk (pun intended) for kids of all ages.
Speaking of the Resident's Club
Simply speaking, there will be no rival to the Resident's Club at Tamaya. We know, we've checked! The detail, the finishes, the little touches not a one was overlooked. This is what will make the Tamaya Resident's Club stand up above the rest. We're so excited we can hardly contain ourselves!! There will be communication released in the near future with information on the soft opening of the club. We cannot wait for you to see it in all its glory!
Did you know??
Forbes recently named Jacksonville the second most popular city to move to. In addition to the relatively low cost of living and absent state tax, schools, new construction and the beautiful ocean and rover were the top reasons. You really are in the place to be!! Here's the rest of the article for your reading pleasure. Send it on to your friends and family!
We hope you love living in Tamaya just as much as we love building it. Be on the lookout for communication from your new lifestyle coordinator and get ready to have the best time in your brand new clubhouse. We can't wait for you to see it!