Are you living at Tamaya or considering becoming a resident? We bet the community's stellar location — "between the city and the sea" — likely factored into that decision. Tucked at the intersection of Kernan and Beach Boulevards on Jacksonville's southeast flank, Tamaya's superior siting puts residents on track to anywhere they need to be in the metro area. One of those areas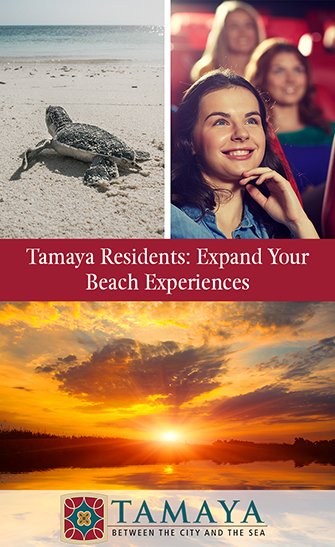 is "JAX's" excellent Atlantic Coast beaches. From south to north, respectively, the classic beachside towns of Jacksonville Beach, Neptune Beach and Atlantic Beach all are only a few minutes and miles from your Tamaya front door.
Head east on Beach Boulevard for six miles and voila — you're in Jacksonville Beach with a view of sea and sand. And, although Tamaya's prodigious menu of resident amenities is second to none in Jacksonville, it's difficult to top a few hours of beach time when the sunshine and saltwater beckons.
But, did you know lounging in your comfy chair and riding the waves aren't the only activities to enjoy there?
We have a few suggestions for Tamaya residents who'd like to expand their beach experiences.
Visit a beach side theatre
There are two longtime, active community theaters at the beach.
Players by the Sea Theatre in Jacksonville Beach is closest to Tamaya. It's located at 106 6th Street North, literally only blocks from the ocean. Founded in 1966, it offers two stages, a wide selection of plays, concerts, and special events such as fundraising parties. It also has an educational branch that nurtures young theatre enthusiasts with workshops, classes and mentoring programs.
All Beaches Experimental Theatre (ABET) is located a bit a further north in Neptune Beach, at 544 Atlantic Boulevard, also only blocks from the actual beach. In existence for nearly 30 years, it offers live community theater beginning each autumn through the following spring.
Get married
Or watch or help someone else tie the knot. Seaside weddings are out-of-the-box ceremonies, but especially beautiful amid nature's semi-tropical splendor.
Jacksonville Beach government paves the way with a no-fee, no-application policy, but does require celebrants to clean up afterward and leave the beach as pristine as they found it. No alcohol or glass containers allowed. Nor disturbing fragile sea oats, dunes and sea turtles.
Speaking of sea turtles…
Monitor sea turtles
These vulnerable, impressive marine animals need a little help during nesting season, when females lay eggs on Florida beaches and hatchlings must negotiate a sometimes-harrowing scurry into the ocean.
The non-profit Beaches Sea Turtle Patrol lends a hand by monitoring sea turtle nests during the May 1-October 31 nesting season. The organization is volunteer-run and observes Florida Fish and Wildlife Conservation Commission guidelines for monitoring, counting and protecting turtle nests.
If this sounds like you, their online application is available early each year. You also can assist with donations and by "adopting" a nest.
Ready for your Tamaya lifestyle? Talk to ICI Homes here.