So you're settling in your new custom Florida home at Tamaya and decorative objects from your former home don't cut it against sleek new walls and spaces.
It's a common conundrum for home buyers who may have been too intent on the buying-building-moving processes to contemplate refreshed design schemes. But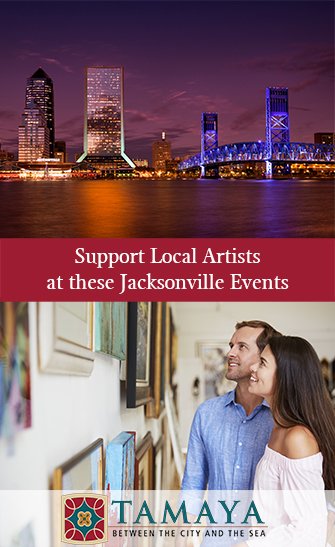 there's an easy and fun way to personalize your new Tamaya home — local art.
There are six major art events held monthly or annually in the Jacksonville area. All feature artists from innumerable disciplines, and all are convenient thanks to Tamaya's location "between the city and the sea."
So give internet shopping a break. Get out there in Jacksonville's considerable arts community!
We'll show you how.
Jax Beach Art Walk
This is the closest art event to Tamaya — only six miles east on Beach Boulevard. It takes place from 5-9 p.m., on the second Tuesday of every month. Artists stage in front of Jacksonville Beach businesses along 1st Street, from Beach Boulevard north to 5th Avenue North.
Grab a bite to eat and stroll the exhibits. Odds are you'll take home one new treasure.
North Beaches Art Walk
This is the next closest art event for Tamaya residents. Head to Jacksonville Beach, then north to its sister towns of Atlantic Beach and Neptune Beach, where you'll find work from nearly 60 local artists.
The North Beaches Art Walk takes place from 5-9 p.m., on the third Thursday of each month. It's held in the town centers of Atlantic Beach and Neptune Beach. A different local artist is featured each month at Adele Grage Cultural Center and you'll also find musical and performing artists.
Riverside Arts Market
This is a biggie! It takes place every Saturday from 10 a.m., until 3 p.m., under the Fuller Warren Bridge in Jacksonville's historic Riverside and Avondale neighborhoods. It happens rain or shine.
Expect artists, fresh produce from farmers, homemade goodies from food artisans, and other craft offerings. Performing groups entertain in the 350-seat amphitheater by the St. Johns River, and early birds can join a yoga session at 9 a.m.
Downtown Art Walk
Another large event, with something for every taste and budget. Downtown Art Walk is a great way to "meet" your new hometown of Jacksonville. It takes place from 5-9 p.m., on the first Wednesday of every month, and is anchored at Hemming Park.
Enjoy live music, dining at nearby restaurants, artists' booths, gallery exhibits, a kids zone, and seasonal events.
Don't miss these annual gems
Held annually on Easter Weekend since 1938, the Mandarin Art Festival attracts more than 100 artists to the Mandarin Community Club. It features pros and locals, plus a children's art show.
Held each April and November, the San Marco Art Festival takes place in the square of Jacksonville's San Marco neighborhood. Patronize exhibiting artists and surrounding businesses.
Ready for your Tamaya lifestyle? Talk to ICI Homes here.