Sprouts is coming! The anticipated new Sprouts Farmers Market adjacent to Tamaya's Beach Boulevard entrance, is a real thing now. It likely won't be long until Tamaya residents spot foundations being poured and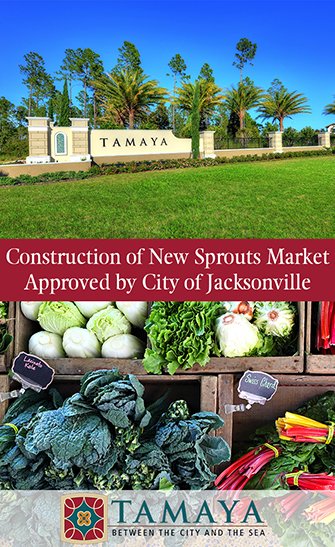 walls rising, all toward an early 2020 opening. Cue the coupons and shopping lists!
The city of Jacksonville has approved the specialty grocer's construction. It will be located in the Tamaya Market shopping complex to the west of Tamaya's main entrance off Beach Boulevard. J. Raymond Construction Corporation obtained a construction permit for the exterior structure in late July 2019.
This will be Sprouts' second Jacksonville store. The first opened in June 2019 at The Markets at Town Center off nearby Town Center Parkway. That store encompasses more than 30,000 square feet. The Tamaya Market store will be a shade under 30,000.
The Sprouts site at Tamaya is being developed by Wrightsville Beach, North Carolina-based Harbour Retail Partners.
Wait, there's more
Sprouts won't be the only retail occupant of the new Tamaya Market, although it will be largest. Sprouts and its future next-door neighbors will combine for approximately 54,000 square feet.
Three outparcels — or separate sites located within the same overall retail acreage —also are in the Tamaya Market plans. No word yet on the possible identity of Sprouts' retail neighbors but Jacksonville-area media have reported that the city is considering construction permits for spaces on either side of Sprouts, and for a building on one of the outparcels.
We do know there won't be any gas stations. Those aren't in Tamaya's overall development plan.
We also know the entire Tamaya Market shopping complex will total 75,000 square feet
Sprouts Market is a good fit for Tamaya
Tamaya is a gated, master-planned community "between the city and the sea."
Its 780-acre location is unbeatable — at the corner of Kernan Boulevard and Beach Boulevard on Jacksonville's southeast flank, only six miles from Atlantic beaches and a hop, skip and jump from the Interstate 295 beltway, which whisks Tamaya residents anywhere in metro "JAX."
Tamaya — destined to build out at 2,300 homes — is growing fast, and more prime retail and residential development is happening in this area all the time.
Aside from its location, the soon-to-be-Sprouts and other stores in Tamaya Market, Tamaya residents can rest easy knowing that Jacksonville Fire Rescue Station 50 is on Tamaya Boulevard just north of the budding shopping center, and just south of the community's main gated entrance.
And, a popular grocer such as Sprouts is only the latest amenity available to Tamaya residents. At the center of all the neighborhood action is a 10,000-square-foot residents club with a resort-style swimming pool complex and a two-level water slide.
Add meeting space, social areas, a playground and spacious event lawn, and the only reason to leave might be to go to the grocery store!
Ready for your Tamaya lifestyle? Talk to us here.