One of the aggravating things about shopping for a new custom home is being presented with a dearth of floor plans by builders.
What do you do if you love a community but none of that builder's designs? Not even a little? And the builder doesn't customize?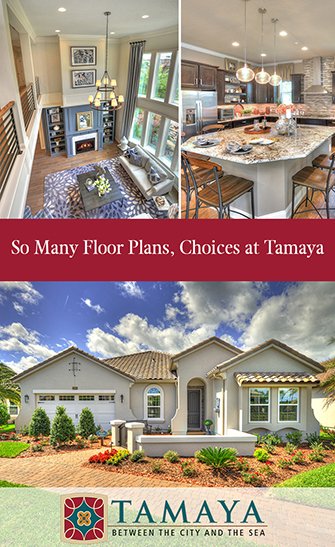 You come to Tamaya!
ICI Homes' master-planned community southeast of Jacksonville will change your mind. Not only is the location minutes to everywhere off Interstate 295, it's only six miles west of Atlantic Ocean beaches, near the intersection of Hodges and Kernan Boulevards.
Tamaya also offers truly amazing amenities, but for a frustrated home buyer who can't find a likable floor plan, the number of floor plans available at Tamaya is even more amazing than amenities.
Are you ready? Thirty-one — that's 3-1. And because ICI Homes is Florida's Custom Home Builder, you can tweak any of those 31.
Here's more on the multitude of choices at Tamaya.
Something for everyone
And we mean it.
Tamaya's available floor plans range from 1,815 square feet to more than 4,000 square feet. Expect a mix of one- and two-level homes, two-to-four-vehicle garages, and multiple elevations for each plan.
There are three Tamaya floor plans under 2,000 square feet, 17 floor plans under 3,000 square feet, seven floor plans under 4,000 square feet and four plans over 4,000 square feet.
Tamaya also is large enough to support this variety. Its 780 acres will hold 2,000 homes at build-out and currently hovers around the 1,000-home mark.
The smallest? The three-bedroom, two-bathroom Taylor floor plan (1,815 square feet).
The largest? The four-bedroom, three-bathroom Biltmore II floor plan (4,258 square feet).
And we customize it all
ICI Homes is Florida's Custom Home Builder. We've built custom homes all over the state for more than four decades and would rather adapt and recreate than force a customer to settle for a floor plan he/she/they don't want.
Many customers find what they want in our extensive, award-winning library. But if not, we offer everyone a no-obligation consultation with one of our talented floor plan designers or architects. They'll tinker with a plan that's almost right, or design one from scratch if that's a better fit — often at negligible or no cost.
Most of all, they listen to you.
Big community + multiple floor plans = plentiful move-in ready options
Sometimes you don't have time or inclination to pour through floor plans, particularly if you have a tight moving deadline. At Tamaya, you'll find a healthy number of our most popular plans built for customers like you. See our move-in ready and under construction homes here.
Catch us early enough in the process and you can help design some, most or perhaps all of your new move-in-ready home as though you'd selected it from the start. How sweet is that?
Ready for your Tamaya lifestyle? Talk to ICI Homes here.