Calling all Tamaya residents, current and future! Let's go shopping!
You're only 15 minutes and six miles from St. Johns Town Center, which is the epicenter of Jacksonville-area shopping and dining.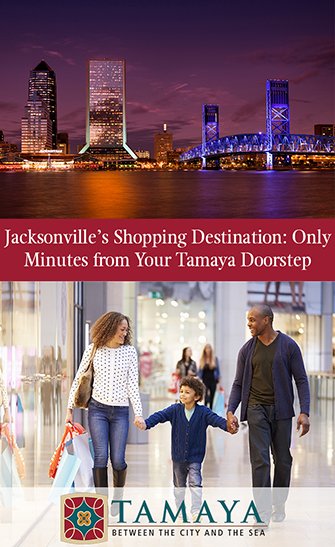 More than 150 stores await, from department-store icons such as Dillard's and Nordstrom, to lifestyle influencers such as Pottery Barn and Anthropologie, and on-trend much-haves such as Apple and Microsoft. Luxury brands such as Louis Vuitton and Tory Burch make storefront statements here too.
Best of all? St. Johns Town Center is a walkable, outdoor shopping experience with street parking, fun green spaces, fountains and seating areas. The non-shoppers can park at Starbucks or on a comfy bench, and catch up on social media or people-watch.
Look for the Town Center Parkway exit off Interstate 295. You'll find anything you need and want, and plenty you didn't know you did.
Here's our quick overview.
It's not just shoes and clothes
We hear you, guys (but remember you need shoes and clothes too).
Get lost in Dick's Sporting Goods. Try out all the demo equipment. Try everything on.
Go to Barnes & Noble and read magazines in the periodicals section. Find that book you've been meaning to read, or a blank-page journal to scribble in.
Get a haircut, a massage or both (not at the same place). Celebrate with some homemade chocolates and ice cream at Kilwin's.
If you're a footballer, support the Jacksonville Armada FC by making a purchase at the team's gift store.
If you don't have to be a participatory shopper with your gang, Topgolf Jacksonville — with its 100 elevated driving bays — is located just behind the Publix at St. Johns Town Center, off Brightman Boulevard.
It's not just St. Johns Town Center
Other shopping centers and standalone stores have sprung up around St. Johns Town Center on the opposite side of Town Center Parkway. Two recent dining additions are popular Brazilian steakhouses — Texas de Brazil and Fogo de Chao, both on Town Center Parkway.
All these recent openings offer Tamaya residents even more convenient shopping and restaurant options (and more Starbucks).
But of particular note is the new Sprouts Farmers Market in Town Center. It's a preview of the Sprouts that will open later in 2019 or early 2020 at the new Tamaya Market currently under construction near Tamaya's main entrance.
The St. Johns Town Center version of Sprouts allows Tamayans to do advance scouting of what this specialty and organic grocer will bring to their neighborhood.
And — if anyone needs a dose of Scandinavian cool — IKEA's mammoth blue and yellow home furnishings store is located only two I-295 exits away at Gate Parkway. Get your Swedish meatballs fix at the cafe while you're at it.
Ready for your Tamaya lifestyle? Talk to ICI Homes here.