Are you a Tamaya resident seeking a new two-wheeled adventure? Preferably with a change of scenery? We at ICI Homes are here with a suggestion — the Jacksonville Baldwin Rail Trail.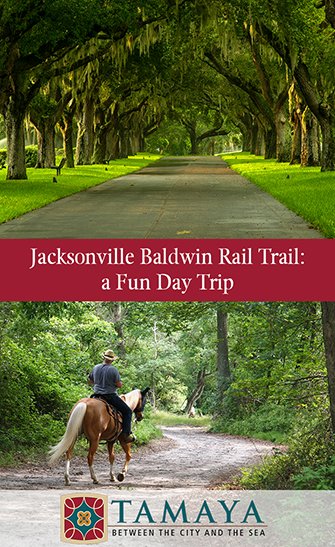 It's a paved, 15-mile path that follows an old railroad bed on the west side of "JAX," and it's open to cyclers, hikers, runners and equestrians, among other active folks. Access is via multiple trailheads available along the way.
Maybe you see neighbors cycling around the neighborhood, or enjoy frequent rides yourself with family and friends. Tamaya is a very walkable and traverse-able community. And there's no shortage of active things to do with the amenities situated around the Residents Club.
So why load up the bikes and trek elsewhere? Because the Jacksonville Baldwin Rail Trail is a woodsy, nature-infused journey past rural vistas, historic sites and Florida's rich natural scenery. It's a small-town look at your larger hometown and, if you're considering buying or building a new custom Florida home at Tamaya, it's great to know there are many active options for your future to-do list.
Here's how to explore the Jacksonville Baldwin Rail Trail.
Where it's located
The Jacksonville Baldwin Rail Trail is approximately 35 miles and 40 minutes west of Tamaya.
The easiest route is to jump on Interstate 10 and head west to Exit 343. Exit north on U.S. Highway 301 toward Baldwin. Turn right at West Beaver Street (also U.S. Highway 90), then left on Center Street. The main trailhead is at 850 Center Street North, also the site of the city of Baldwin's old train depot. Free parking is available.
What you'll see
A slice of Florida's important railroad industry as you exit I-10 toward Baldwin — busy rail yards and trains. This once laid the route of the present-day Jacksonville Baldwin Rail Trail, which is part of the Florida Greenways and Trails program.
The flat, 12-foot-wide trail is an easy ride. The unpaved equestrian trail runs beside the paved trail, so don't be surprised to pass riders and their horses.
Trees of all varieties — oaks, pines and other hardwoods and evergreens — provide welcome shade. Plants, flowers and birds are abundant. Occasional wildlife is visible.
At midpoint, the Jacksonville Baldwin Rail Trail passes the Camp Milton Historic Preserve, a Civil War-era campground with free admission and additional trails and exhibits to explore.
Feeling energetic and ready to go the distance? Cycle the entire 15 miles one way and double back for a 30-miler. Otherwise, ride as far as you and your companions like, then turn around.
What's available
You'll find restrooms at the Camp Milton Historic Preserve trailhead access. Picnic tables, benches, trash cans and water fountains are available at various points along the trail.
Other trailhead accesses are located off Brandy Branch Road, Halsema Road, Imeson Road and Otis Road.
Ready for your Tamaya lifestyle? Talk to us here.