ICI HOMES SELECTS FOUR TOP INTERIOR DESIGNERS FOR HOMES AT TAMAYA, A NEW MASTER-PLANNED COMMUNITY IN JACKSONVILLE
JACKSONVILLE, Fla. (Jan.31, 2014) – ICI Homes has selected four interior designers to merchandise eight model homes as part of a more than $4 million effort on a model home park and vision center opening to the public at Tamaya, an all-inclusive,master-planned community ICI Homes is developing at Beach and Kernan boulevards in Jacksonville.
The following designers have been selected to provide Tamaya's visitors with images of the elegant, single-family homes to be built at the unique Mediterranean-style community being built between the city and the sea in Jacksonville:
Sisler Johnston Interior Design, Jacksonville, FL
Principal: Judith Sisler Johnston, president, allied member ASID
Design South of Ponte Vedra,Ponte Vedra Beach, FL
Principal: Anne Carroll, owner/designer
Everyday Elegance Interiors, Jacksonville, FL
Principal: Beth Lewis, ASID
Merchandising Plus, St. Johns, FL
Principal: Rita Williams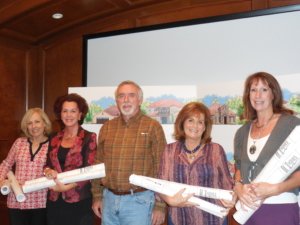 "We're fortunate to have contracted some of the Southeast's top interior designers from the talented ranks of professionals right here in the Jacksonville area," said Sherrie Williams, vice president of interior designs for ICI Homes in Jacksonville."Not only does this allow us to work with some of the best designers around, it gives us the ability to design homes that truly suit the tastes and styles of Jacksonville-area home buyers."
The home building and development company will spend more than $4 million constructing eight model homes and merchandising their interiors; building a vision center to market the community; and creating a unique Mediterranean land- and park-scape to surround and complement the visitor's experience. Construction of the homes has begun, with a model grand opening set for early May.
The first phase of the 2,400-home community on 780 acres will consist of 169 single-family homes ranging in size from 1,900 to 3,500 square feet and priced from $300,000s to the $600,000s. Buyers will choose from 16 custom home designs in various architectural styles, including Tuscan, Mediterranean and Spanish.
The designers have been selected to provide interior design options, such as cabinets, counter tops, flooring materials and wall colors. Each will compete during a grand opening this spring in a design competition to showcase their skills as preeminent professionals and to provide visitors of glimpse of choices for home looks at Tamaya that will range from traditional to transitional to contemporary.
Each designer will be given the same square-footage-based allowance to buy materials, design interiors and merchandise the insides of two models of homes that will be built at Tamaya, said Williams, who is coordinating the competition. ICI Homes did extensive market research and geared design criteria to the demographics of potential buyer types.
Winners will be announced and designs unveiled a couple weeks after Tamaya begins sales at a vision center and opens a model home park to the public. Both areas of Tamaya – as well as an entrance off Beach Boulevard – are already under construction.
"With this caliber of designers, I know people will be very impressed by what they see," Williams said. "This is a must-see for prospective home buyers and it'll be worth a trip to Tamaya to see these chic and elegant new homes."
About Tamaya
Tamaya is a master-planned community about midway between the beaches and downtown in Jacksonville, Fla. Comprised of 780 acres and up to 2,400 residential units, the all-encompassing community features a broad spectrum of homeowner choices from townhomes to single-family and estate homes.
Designed in an attractive Mediterranean architectural style, Tamaya is a one-of-a-kind community that will bring new vibrancy, character and relevance to the area of Jacksonville between the city and the sea. It will offer an abundance of green space, walking paths, crystal lakes, a 10,000-square-foot amenity center, a grand entrance, a two-story gatehouse, and more than 500,000 square feet of commercial and retail space.
Slated for opening in spring of 2014, construction began on Tamaya's vision center and model home village, which will feature eight custom furnished home models ranging from 1,900 to 3,500 square feet. Pricing for the first phase of 169 homes will range from the $300,000s to $600,000s and feature a choice among 16 distinctive plans.
Tamaya is located at Beach and Kernan boulevards in Jacksonville, Fla. For more information, call (855) 279-6053 or visit www.TamayaFL.com.
Photography
From left: Anne Carroll, Judith Sisler Johnston, Don Wilford, Rita Williams,and Beth Lewis.