If you're a Tamaya resident, one of the reasons you likely bought here was the community's amazing amenities.
We won't rattle them all off — you know about that versatile 10,000-square-foot residents club, two swimming pools, four tennis courts, fitness center and event lawn — but add in the playground,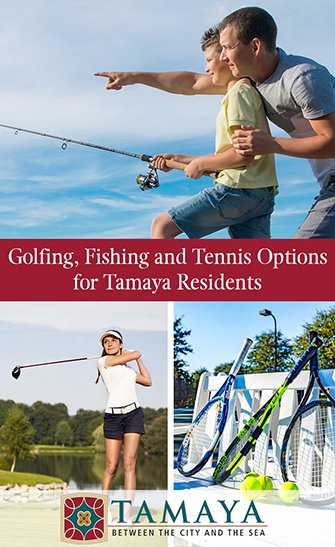 basketball courts and two-story waterslide, and there's never a shortage of anything to do.
This is in addition, of course, to lounging on your own patio and perhaps enjoying your own pool, summer kitchen or garden. But if your favorite pastimes include golf, fishing or league-play tennis, you'll might want to venture out of the neighborhood. But fear not, you won't have to venture far.
Good thing Tamaya is so perfectly located. Its tagline is "between the city and the sea," and its siting on Jacksonville's southeast flank means it's easy to get from Tamaya to anywhere in metro "JAX." Since it's at the intersection of two main thoroughfares — Kernan Boulevard and Beach Boulevard — Tamaya is only six miles west of Jacksonville Beach and the Atlantic Ocean.
Which is where we're sending you to bait hooks, tee off, and break serves.
Here are our golfing, fishing and tennis options for Tamaya residents.
Golf
The adjacent municipality of Jacksonville Beach offers numerous public recreation facilities. One is the more-than-50-year-old Jacksonville Beach Golf Club, a historic public course only a long drive and short putt from the Atlantic Intracoastal Waterway and the beach.
It's located at 605 Penman Road South in Jacksonville Beach, and has benefited from extensive recent renovations by the city. You'll find a driving range, pro shop, and restaurant. Call or visit the club's website for more information on tee times and costs.
Fishing
The Jacksonville Beach Fishing Pier, at 502 North 1st Street, is one of the top angling spots around, especially if you love surf-casting and being on the water without all the hassle of a boat.
However, check the city's website before you pack your tackle and rods. Most of the year, it's open from 6am – 10pm, but hours for the pier may vary seasonally or for maintenance.
As of this writing, the fee to fish was $3, or only $1 for spectators. Children 6 and are free.
Tennis
Tamaya has four tennis courts, but if you're hankering for more than squaring off against the kids and neighbors, we've got a suggestion: the Jacksonville Beach Tennis Center.
It's located in the city of Jacksonville Beach's Huguenot Park at 218 16th Avenue South, and is only a block from the beach. Seven courts — six lighted — support men's and women's, mixed, and juniors' league play.
Lessons are available, as is a pro shop, hitting backboard and lounge. Check the website for fees and reservations.
Ready for your Tamaya lifestyle? Talk to ICI Homes here.