DEVELOPERS BREAK GROUND ON TAMAYA – A 2,400-HOME, ALL-ENCOMPASSING COMMUNITY BETWEEN THE BEACHES AND DOWNTOWN JACKSONVILLE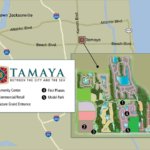 JACKSONVILLE, Fla.– A team including a select group of Florida's largest residential developers has begun construction of Tamaya – an all-encompassing Mediterranean-style community that will inject new life between the beaches and Downtown Jacksonville on one of Duval County's largest undeveloped tracts.
Developers ICI Homes of Tamaya will create 2,400 homes and more than 500,000 square feet of commercial/retail space on 780 acres at Beach and Kernan boulevards for a unique and conveniently located European-style community. Construction has already begun at a Beach Boulevard entrance.
ICI Homes of Tamaya includes principals Mori Hosseini, Chairman/CEO of ICI Homes, which he founded in 1979 and has grown into one of Florida's largest homebuilders and developers, James. M. Carr, Chairman/CEO of CC Devco LLC, who has more than 30 years' experience in residential development in Florida and Armando Codina, Chairman/CEO of Codina Partners, a company he founded in 1979 with a portfolio of properties mostly in Florida.
Tamaya will rise between the city and the sea – with a grand gatehouse and entrance featuring a cascading water element. Inside, once past a two-story gatehouse, visitors and residents will enjoy a rich mix of amenities, such as a sparkling lake, a $10 million amenity center with competition-sized pool and cabana, and a 10,000 square-foot clubhouse with ample fitness, meeting and event space.
"This will be a place – unlike any other in Jacksonville – where people can live, work and play in a single, familial community," said Mori Hosseini, principal of ICI Homes of Tamaya. "Tamaya will offer in-town living, with a Florida-European flair that focuses on walkability, ease of living, comfort and style. This is truly something new for Jacksonville."
Convenient to I-295 – and the rest of Jacksonville – the St. Johns Town Center, marinas, The Mayo Clinic and other employment centers, the first phase of Tamaya will begin with 169 customizable, single-family homes in a community for homebuyers that want a high-quality lifestyle and equally easy access to the beach and city.
Construction of an entry lane on Beach Boulevard began this month. ICI Homes of Tamaya plans to break ground on an 8-home model village in January and to open them in the spring to visitors and the community.
About Tamaya
Tamaya is a master-planned community about midway between the beaches and downtown in Jacksonville, Fla. Comprised of 780 acres and up to 2,400 residential units, ground breaking for the first 169 homes will be underway in the first quarter of 2014.
Homes starting in the mid $300,000s will be set in a Mediterranean-styled community, featuring an abundance of green space, crystal lakes, a 10,000-square-foot amenity center, and a grand entrance and a two-story gatehouse. It will also include more than 500,000 square feet of commercial/retail space.
Set to open its model home village in Spring 2014, the attractive, walkable community will offer 16 customizable homes from 1,900 – 3,500 square feet in a one-of-a-kind community that will bring new vibrancy, character and relevance to the area in Jacksonville between the city and the sea.
Tamaya is located at Beach and Kernan boulevards in Jacksonville, Fla. For more information, call 855.279.6053.