Looking for a change of pace for family or group fun? How about some classic bowling in Jacksonville?
Residents of Tamaya, ICI Homes' master-planned community on Jacksonville's south side,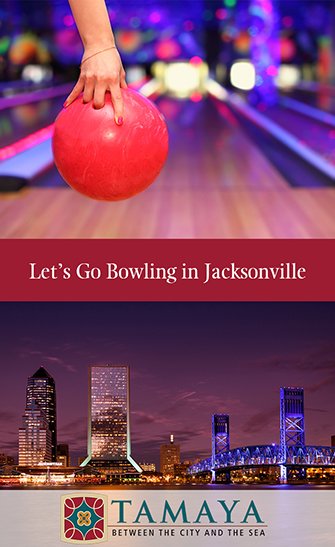 might ask why they should look outside their neighborhood for entertainment when there's so much to do and enjoy inside it.
It's called variety.
As wonderful as Tamaya's amenities are — they truly are, trust us — this community "Between the City and Sea" is surrounded by one of Florida's most vibrant metro areas and some of its most gorgeous Atlantic beaches.
Sometimes a simple outing is just what we need as we look to shake up our leisure time, so why not a throwback outing like a trip to a local bowling alley?
Rolling strikes and gutter balls, and practicing one's footwork is as fun as ever — the re-introduction of an old friend for folks who haven't bowled in a while, or a new challenge for those who never have.
It can be an endearing retro experience, or immersive entertainment with a modern "spin" depending on which bowling alley you patronize. Plus, there's always Tamaya's Residents Club, resort-style swimming pool complex, fitness center, tennis and basketball courts, event lawn and community events to come home to.
Here are a few suggestions to get you bowling near Tamaya.
Beach Bowl: the future destination for Bowling in Jacksonville
This is the one Tamaya residents will want to keep on their radars.
Only 5.4 miles due east of Tamaya, Beach Bowl long has been a fixture in nearby Jacksonville Beach. It closed in November 2019 after nearly 60 years in business, but now is being revived and renovated.
Located at 818 Beach Boulevard, Beach Bowl was built in 1958. It opened in 1959, offering Jacksonville Beach-area residents and visitors timeless bowling experiences decade after decade.
The renovation will add approximately 6,200 square feet to Beach Bowl's current 19,677 square-foot footprint, plus a two-level restaurant with a covered rooftop dining area, and expanded parking space. All this is according to plans submitted to and approved by the Jacksonville Beach Board of Adjustment in early February 2021. A local company, H&H Enterprises Inc., owns Beach Bowl.
As of this writing, no word yet on a reopening date. Stay tuned for how and when you can enjoy this Jacksonville Beach landmark.
Jax Lanes Bowling Center
Another bowling option for Tamaya residents lies in the opposite direction on Beach Boulevard.
The Jax Lanes Bowing Center, located at 8720 Beach Boulevard, is six miles due west of Tamaya. Bright murals decorate the walls around its lanes, and Jax Lanes offers daytime bowling, league play, the opportunity to plan and stage special events, and pool tables if you need a break from hurling bowling balls and squeaking around in soft-soled shoes.
Adult refreshments are available in Jax Lanes' bar. And, of course, there's a snack bar offering all the munchies once you work up an appetite. The convenient location, drinks, snacks, and games make this a favorite of the Tamaya community for bowling in Jacksonville.
Ready for your Tamaya lifestyle? Talk to ICI Homes here.