One of the MANY perks about living in Tamaya is its proximity to the beach.
This master-planned community southeast of metropolitan Jacksonville is located on — what else? — Beach Boulevard, and the Atlantic Ocean is, as advertised, six miles away.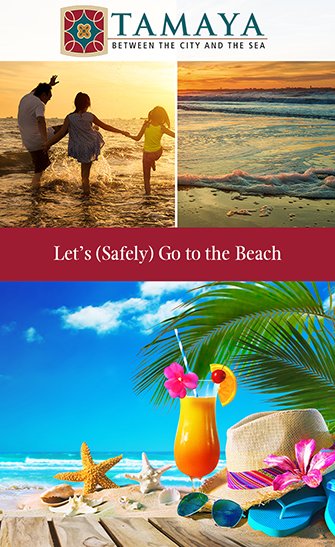 You're minutes by motor vehicle or motorcycle, and a bit more aboard a bicycle. But the point is that sun and sand can be part of your daily Tamaya lifestyle.
The nearest ocean outpost is the city of Jacksonville Beach. It's directly east of Tamaya and is a great place to spread a blanket, set up some chairs and dash for the surf.
But, don't ignore the towns just north on A1A, Florida's Atlantic coast highway. Neptune Beach is Jacksonville Beach's closest neighbor, with Atlantic Beach a bit further north. Collectively, all three municipalities are known as the Jacksonville Beaches and each boasts its own local vibe.
However, one tenet to remember about the beach — particularly if you're unfamiliar with coastal life — is to put safety first any time you're around it.
Here are our quick tips on how to (safely) go to the beach.
Sunscreen, sunscreen, sunscreen
Should we say it again?
Many of us at ICI Homes are beach and water sports enthusiasts and can tell you first-hand not to forget it. There's a reason Florida is called the Sunshine State.
The sun angle here is intense year-round, even when it's cloudy or uncharacteristically cool. Lather up any time you're outdoors, but especially on your beach of choice. Those lovely, lapping waves and vanilla sands magnify UV rays.
While you're at it, don't forget the sunglasses, hats and beach umbrellas. Sun protection is #1 in beach safety!
Always better safe that painfully sorry.
Stay hydrated
You're surrounded by water at the beach, so sometimes you might not think to take your own.
If you enjoy strenuous activities like surfing, beach volleyball, and the like, it's easy to get thirsty, especially in summer. Many Jacksonville-area beach parks feature water fountains along with restrooms and outdoor showers, but having your own reusable water bottle is always a great idea regardless.
Pack plenty in your coolers (and snacks!) to sustain your energy.
Ocean safety
Rip currents, rough surf and certain marine critters can ruin a day at the beach — or turn dangerous if you're not water-aware.
It's wise to visit a beach overseen by lifeguards and to note which color flag they're flying from their stations. Generally, green means go. Yellow means be cautious. Red means stay out of the water, and purple warns of critters that sting and bite.
Rip currents can't be ignored. They're strong tunnel-like outflows that occur in the surf zone due to offshore conditions and pull swimmers out to sea. Unless you're an experienced swimmer, it's best to avoid the water that day.
Jellyfish and Man-O-Wars are floating marine creatures with long tentacles that sting. Seek lifeguard aid promptly if you tangle with one.
Ready for your Tamaya lifestyle? Talk to ICI Homes here.