If you're reading this in warmer weather, you can't be outside enough in northeast Florida. The same is true if you're reading this in cooler weather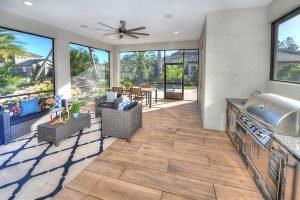 — especially at Tamaya, where residential architecture enhances outdoor living.
One of Jacksonville's top master-planned communities, Tamaya is located southeast of the city, only a few miles west of Atlantic beaches, and east of the Interstate 295 beltway and the shopping, dining and entertainment enclave of St. Johns Town Center.
Those are reasons enough to consider Tamaya for your new custom Florida home. But if kicking back at home is truly your thing, here's how Tamaya's design can help you channel that vibe outdoors.
Mediterranean, Spanish and Tuscan elevations
Tamaya's architectural look pulls from traditional building and design styles from countries and cultures in other sunny spots around the world.
Think Italy, Spain and Greece, among others.
It's probably easy to think of tasty dishes from those regions, and the same applies to their architecture. Tamaya's homes all feature Mediterranean, Spanish and Tuscan elevations (or exterior designs). Your floor plan offers elevations in two or three of these styles. Choose your favorite knowing it will distinguish your home, yet also compliment the neighborhood.
But how does it do that? With an array of design elements and building materials. Stucco exterior finishes, clay roof tiles, decorative columns, sun-washed colors, and brick and stonework are the most obvious elements you'll see in Tamaya's architecture. Other flourishes include arched doorways and windows, and wrought-iron light fixtures.
As a bonus, this style has been popular in Florida since the early decades of the 20th century. So it's a classic look that won't fade.
A coastal lifestyle promotes outdoor living
Residents buy their new custom Florida home at Tamaya for many good reasons, but an indoor-outdoor lifestyle is a big one.
With sandy Atlantic Ocean beaches so close to the community,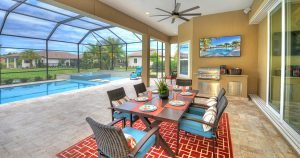 Tamaya's designs echo their time-honored inspiration. The sunny areas that inspire Tamaya's architecture also enjoy similar year-round temperate climates, plentiful sunshine, and outdoor pursuits such as water sports and entertaining.
We at ICI Homes get you off to a good start by including a covered lanai in every floor plan we design. Furnish it with comfortable seating and a ceiling fan. Add screens so you can enjoy a seamless indoor-outdoor flow, or opt for an extended, open-air patio.
Whatever you do, don't skimp on maximizing your Tamaya outdoor living space, regardless of its size. In fact, let Tamaya's amazing Resident's Club, with all its outstanding amenities, inspire your backyard oasis on a cozier scale. Take inspiration from your home's exterior and envision a swimming pool, summer kitchen, and comfortable lounging and dining areas. Or, look around and glean ideas from your new neighbors.
Another hallmark of a worldwide coastal outdoor style is foliage. Fill ceramic or terra cotta pots with vibrant flowering plants like hibiscus, sunflowers and colorful annuals.
Ready for your Tamaya lifestyle? Talk to ICI Homes here.