If you're cruising for a new custom Florida home in Jacksonville, we hope you'll consider Tamaya, ICI Homes' master-planned community on the southeast side of "JAX."
Tamaya's tagline is "Between the City and the Sea," which you'll see once you're here. Its 780 acres are sited near the main intersection of Beach and Kernan Boulevards, and you literally can get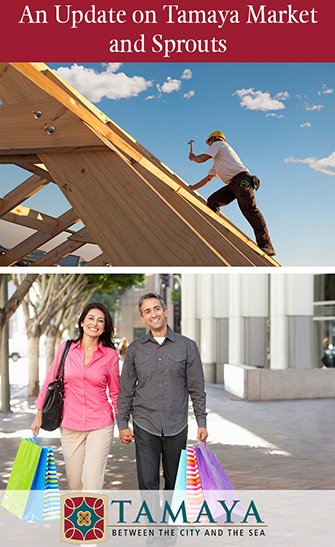 anywhere in metro "JAX" once you exit Tamaya's gates.
Head west a few miles and you're in downtown Jacksonville. A few miles east and you're at gorgeous Atlantic Ocean beaches. And, while Tamaya's location can't be beat, neither can its nearby resources.
Once of the newest reasons for resource excitement is the advent of Tamaya Market. The 75,000-square-foot shopping center is being built just west of Tamaya Boulevard, which is the community's entrance off Beach Boulevard.
The best part? A 30,000-square-foot Sprouts Farmers Market will be the anchor to Tamaya Market. Fresh, whole and organic foods are the hallmark of this specialty grocer, and it's not that far away from becoming a reality.
Read on for the latest update on Tamaya Market's own Sprouts.
Countdown to construction
By the time you read this, crews might be grading the site, pouring foundations or framing the structures that will become Sprouts and its retail neighbors. Or, making even further progress. Tamaya residents might already be trying to spot Opening Soon signs each time they drive by.
Here's the timeline to anticipate:
The 11.2 acres that will be Tamaya Market was purchased by Wilmington, North Carolina-based Harbor Retail Properties in December 2018.
The nitty-gritty clearing, grading and prep work began in January 2019, followed by construction in April.
Finally, an opening was targeted for early 2020.
Tamaya Market isn't just Sprouts
Because we do need other things besides groceries.
Expect an additional 23-to-24,000 square feet of retail space in the same shopping center. Another 22-to-25,000 square feet will be available in three separate buildings.
Residents can look forward to those buildings being filled with a variety of retail space. The Tamaya Market won't contain mixed use spaces such as gas stations.
Do your homework
Not familiar with Sprouts?
The popular Sprouts chain is Phoenix-based. It made a relatively recent foray into Florida, with its first store in the Sunshine State opening in 2018, in Tampa.
Sprouts' first location in northeast Florida will be located in the Markets of Town Center, off nearby Town Center Parkway. It's scheduled opening is for mid-2019 and will provide a mouth-watering preview of the Tamaya store.
Ready for your Tamaya lifestyle? Talk to ICI Homes here.