Buying or building a new custom Florida home often means finally attaining your dream home.
You and other household members might have spent months, if not years, researching and planning not only what kind of home you wanted, but where you wanted it to be. Your timetable is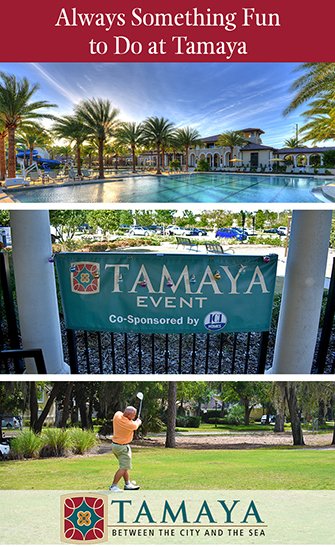 admittedly tighter if you must move due to sudden career, family or personal reasons. But that doesn't mean you shouldn't take careful planning into consideration.
How about the community? Consider more than its distance to workplaces, schools, shopping areas and medical care. If you're only just beginning to consider these factors, take a moment to learn about Tamaya. Located in southeast Jacksonville, this master-planned community will illustrate why you should consider the neighborhood aspect of a move as closely as everything else.
Here goes!
A true community
Check out Tamaya's compelling vital information on our community website. What you need to know here is that its 780 acres will support approximately 2,000 homes at build-out, and approximately 1,000 homes exist. So plenty of choices and room remains.
The Mediterranean architecture spotlights Tuscan and Spanish designs. That helps unify Tamaya's look while a plethora of floor plans and customization possibilities ensures each customer gets the perfect home.
But guess what's (literally) in the middle? An amazing 10,000-square-foot residents club than anchors a huge resort-style pool with a two-story waterslide, interior event space, an exterior event lawn, playground and basketball courts.
And this place gets used. Allow us to demonstrate.
A jam-packed event calendar
These are only a few Tamaya Events:
A Holiday Pop Up shopping event at the residents club, where many vendors are Tamaya residents exhibiting their artistic skills. It's a great way to support your neighbors and get to know more of them. You might find something in common with a crafter of homemade gourmet vinegar, or a designer of handmade ornaments. Yummy seasonal drinks and munchies included.
The first residents' golf tournament in July 2018 was such a success that we held our 2nd one this April. Will it become an annual necessity? We suspect so.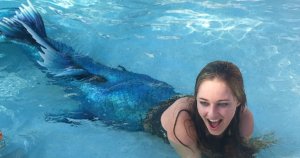 Other events include Sundae Fundays, when attendees can build outrageous ice cream indulgences, and Poolside Carnivals, where a mermaid is apt to appear and a DJ spins awesome tunes.
Resident Appreciation events pop up on the regular, with catered food and drinks, and prizes such as $50 gift certificates. We're also planning a spectacular Poolside Birthday Bash for Tamaya's 5th anniversary this year.
Who wants to take January's Polar Plunge at the pool? It's all relative due to Florida's mild winter seasons, but plenty of people do, then warm up at a hot chocolate bar afterwards, while kids enjoy a piñata contest.
Celebrate National Pie Day in March with — you guessed it — many tasty varieties. It's a beneficial kid meet-and-greet, too, with older kids signing up to be neighborhood babysitters and families potentially able to find sitting help.
Check in with ICI Homes' community ambassador and Tamaya's lifestyle coordinators for more event information. But, you have to really live the lifestyle and be a Tamaya resident to get admission to these amazing events.
Ready for your Tamaya lifestyle? Talk to ICI homes here.