If you're considering a new home at the most centrally located master-planned community in metropolitan Jacksonville, then you're likely aware of Tamaya's impressive amenities.
The 780-acre gated enclave is smack in the middle of everywhere you'd like to be. In fact, Tamaya's tag line is "Between the City and the Sea" and it's very apt. The community is located on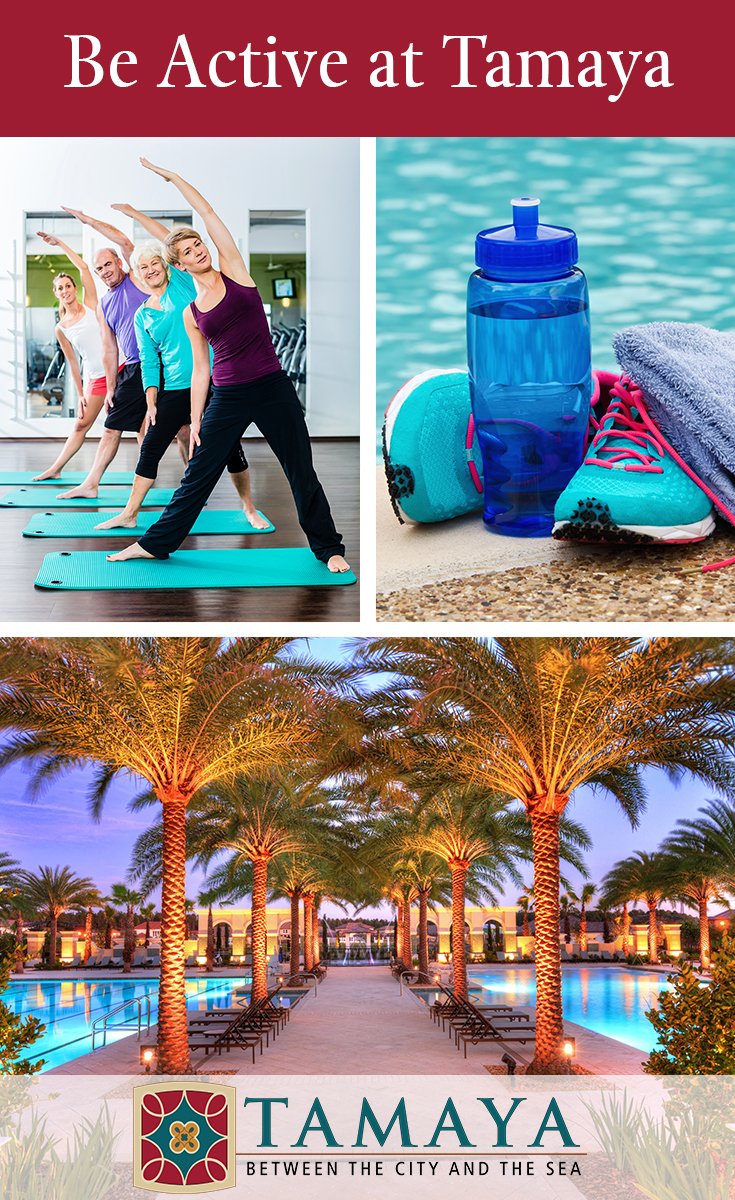 Jacksonville's east side, off Beach Boulevard, between Hodges Boulevard to the east, and Kernan Boulevard to the west.
Beach Boulevard is a major east-west artery studded with all the shopping, services, dining and recreation options you might need. Here's another reason it rocks: head six miles east and you're at a gorgeous Atlantic Ocean beach. Head six miles west and you're on Jacksonville's Interstate 295 beltway, only minutes from anywhere in the city, especially its vibrant, bustling downtown.
But, there are a lot of ways to be active at Tamaya without getting in a motor vehicle — some you might anticipate and perhaps some you haven't considered. Read on as we describe how it's easy to be active at Tamaya.
Some obvious choices
Tamaya's beautiful Residents Club is your headquarters for all sorts of active pursuits. From two swimming pools to a basketball court to a children's playground, the Residents Club is an easy first choice when it's time to get the blood flowing and heart rate elevated.
Its 10,000 square feet anchors community space perfect for meetings, dinners, catered events and simple pursuits such as card games and neighborly chats over coffee.
You'll also find a 5,000-square foot fitness center that incorporates a yoga room, and separate areas for weights and cardiovascular equipment.
Outside, the two pools — one zero-entry and one lap pool — feature a tower water slide and cabana. There are four Har-Tru tennis courts, the aforementioned basketball court, an event lawn (perfect for croquet) and an imaginative children's playground on the clubhouse's east side.
Are you weary yet?
Some not so obvious choices
They're not obvious only because you, a prospective Tamaya resident, might welcome ideas from us at ICI Homes.
One of the first elements you might notice on a visit to Tamaya is sidewalks. They border each street and are wide enough for folks using strollers, bicycles, tricycles and skateboards to comfortably pass each other.
Hit the sidewalks for miles and hours of walking, running or biking. Wave at neighbors while you're at it. Tamaya's streets also provide another workout track; just be aware of traffic.
Want to venture outside of Tamaya's gated surroundings? Those sidewalks extend to Beach and Kernan Boulevards. Or, jump on your bicycle and pedal east to Patton Park, a Jacksonville city park off Hodges Boulevard. Patton Park is a quick ride away and offers a playground, 12 soccer fields, a football field and picnic facilities.
Own kayaks, canoes or both? Head for Castaway Island Preserve on San Pablo Road, a few miles east of Hodges Boulevard. Its 235 acres offer scenic hiking trials, aquatic trails for canoeists and kayakers (the Atlantic Intracoastal Waterway is a short paddle away), a floating dock and picnic facilities.
Ready for your new custom Tamaya home? Talk to ICI Homes here.