Tamaya residents have no shortage of leisure activities thanks to their community's amenity center.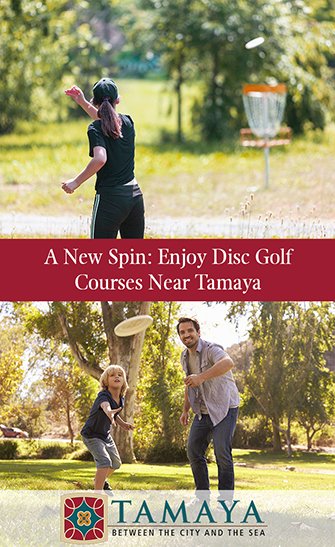 In fact, those amenities and Tamaya's unbeatable location on Jacksonville's southeast side are a powerful draw for many home buyers.
Resort-style swimming pools, tennis and basketball courts, a playground, event lawn and a beautiful Residents Club that offers gathering spaces and a fitness center, all give your household plenty of reasons to play. And, Atlantic Ocean beaches are only six miles east of Tamaya's location at the intersection of Beach and Kernan Boulevards
But, why not experiment?
Disc golf is an increasingly popular outdoor sport that's fun for all ages. If you're unfamiliar, it's basically golf played with a Frisbee, or disc, rather than clubs and a ball. One of Jacksonville's best-known disc golf courses is only a few miles north of Tamaya. Plus, there are two within easy driving distance that will reward you with different "golfing" experiences.
Read on to enjoy this "new spin."
Disc golf 101
"How does one play golf with a Frisbee?" you're asking right now.
Simple — toss it into an elevated metal basket on a pole. A disc golf course is very similar to a traditional golf course. Your tee-to-green shots are Frisbee throws rather than hitting a ball with a club.
Scoring also is similar — the total number of Frisbee tosses versus number of shots. Like traditional golf, disc-golf enthusiasts aim for the minimum number of throws on each hole. Also, a disc golf course presents different terrain and sizes of holes just like traditional golf.
A disc golfer doesn't want to plunk a disc in the water, or be frustrated by a slice that sails his or her Frisbee into adjoining woods any more than a traditional golfer.
Disc golfers also carry a (smaller) bag filled with favorite Frisbees — technically known as discs — just like traditional golfers lug golf bags with clubs and balls.
Bottom line? Disc golf is an easy game to learn, play and enjoy!
Start at Fore Palms Disc Golf Course
It's located in Ed Austin Regional Park, which is only seven miles and 14 minutes north of Tamaya, on McCormick Road.
Fore Palms is a former nine-hole traditional golf course. You'll get the true feel of open fairways and molded greens as you seek to land your disc in the raised metal basket at each hole.
If you want to enjoy other activities before or after a round, Ed Austin Park offers various sports fields, a dog park, walking trails and a playground.
Other courses
Two options are the Springfield Disc Golf Course in the historic, namesake neighborhood north of downtown Jacksonville, and the New World Sports Complex off Normandy Boulevard near Cecil Airport on the west side of town.
New World Sports Complex offers a pro shop, four disc golf courses, a traditional golf course and a restaurant.
Ready for your Tamaya lifestyle? Talk to ICI Homes here.