Do you live in, or are you considering building or buying your new home in Tamaya? If so, you're probably familiar with our lavish 10,000 square foot amenities center opens in a new window. But are you aware of the community events and programs we offer? We host lots of community events opens in a new window for our residents. Residents can enjoy our seasonal Polar Plunge challenge, annual golf tournaments, and more. One new recreational outlet coming soon for our youngest residents is Fit Mind Junior, a meditation, yoga, and fitness bootcamp.
What is Fit Mind Junior?
Fit Mind Junior is designed to be an organic program suited to the needs of the individual children that attend. Classes are separated into two age groups and each one will be around an hour. Children from ages 6-11 can attend one class, while the older kids (ages 12-17) can attend during a different time. Fit Mind Junior's two instructors, husband and wife team Jean-Luc "Panda" Hirabayashi and Alanna O'Rourke describe it as "a fitness boot camp that also has aspects of mindfulness, meditation, and yoga."
The boot camp will focus on more than physical fitness, however. Panda says "what the children will be getting out of the class is different techniques they can use for stress reduction, just bringing more awareness, listening to yourself, listening to your body." Both instructors hope to get Tamaya's children feeling better about themselves and their bodies. They also want to focus on each individual child and their learning styles to help shape the classes.
They hope to "give that gift of 'what do you need to help you grow internally and externally?', and that's going to be different for every child."
The first of many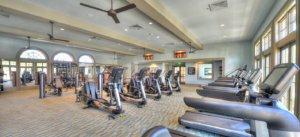 Panda and Alanna plan to have "multiple offerings" during their time at Tamaya. Parents are welcome to come observe (or even participate in) Fit Mind Junior, but it's really designed for the children. Fitness and mindfulness craving adults need not worry, however. Panda and Alanna just might have something special planned for you in the future. In the meantime, you can get your sweat on at our state-of-the-art fitness center.
Ready for your Tamaya lifestyle? Talk to us here. opens in a new window